Annual Giving Campaign
Helping All Children Succeed!
As we move towards year-end giving I would like to share with you the many ways gifts to our Annual Giving Campaign are used to help students succeed.
Avery is a 6th grader at Templeton. She is finding her love of learning through music and math.
Arts enrichment directly impacts academic proficiency.
Girls in Engineering, Math, & Science (GEMS) Day for girls in 5th and 6th grades work side-by-side with female scientists, engineers, & mathematicians to explore the STEM in fun and relevant ways.
Literacy initiatives and intervention materials help children develop reading skills to read at grade level by grade 3.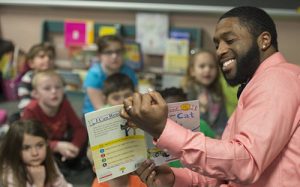 Real Men Read program provides male volunteers to read in all kindergarten classes and gives more than 4,000 books to more than 850 children annually.
STEM enrichment, field trips, and equipment to help students see how STEM learning impacts real-world issues and careers.
Will you please renew your commitment to our students today? Your gift will change lives.
Thank you. When you support education, you help students find their passions and fulfill their dreams.
You can give today by clicking the donate button or mailing your check to FMCCS at 315 North Drive, Bloomington IN 47401.
---
Leave a Reply