Grant Applications & Guidelines
 Classroom & Small Project Mini-Grants are closed for the fall cycle. Please check back in the spring.
The 2013 – 2014 Grant Program will open on August 1st, and will be open to employees and students within the MCCSC.  The entire application must be completed online, including the signatures and budget pages. If you have questions or difficulty submitting your grant please don't hesitate to contact us at fmccs@mccsc.edu or call 812.330.7700 ext 40012.
For step-by-step instructions for our online grant system, click here.
For FAQs about our online submission system, click here.
IU Center for the Study of Global Change Grants Information Sheet
Outdoor Education Grants Information Sheet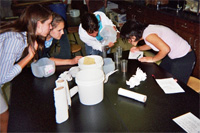 Classroom & Small Project Grants                                                               
Multi Classroom, School and System Grants
Grant Guidelines
High Impact Innovation Grants
Grant Guidelines
Elementary Library Grant
Grant Guidelines
Click here for a budget template