Real Men Read Parent/Mentor Portal
Each year, FMCCS places men from our community in Kindergarten classrooms throughout the district. Five times a year, the MENtor reads aloud from a book that each child receives a copy of. Through fun activities and exciting stories, students are encouraged to love reading and take lessons from the books. If you would like to continue engaging your child at home, feel free to use any of our lesson plans as inspiration.
We also encourage you to support this program for next year!
$20 will fund the program for one student.
$60 will fund the one classroom for one month of the program.
$300 will fund a classroom for all five months of the program.
If you would like to make a donation towards Real Men Read, please click the Donate button on the sidebar. Under "Related Gift Information," make a note that your donation is "For Real Men Read." Thank you for fostering a love for reading in our students.
Thank you to our program sponsors for the 2017-2018 program:
The Wahl Family Charitable Trust, German American, and our MENtors
October –
Room on the Broom
Written by: Julia Donaldson
This is a rhyming book about animals that go for a ride with a witch on her broom. When she encounters trouble, the animals work together to help the witch.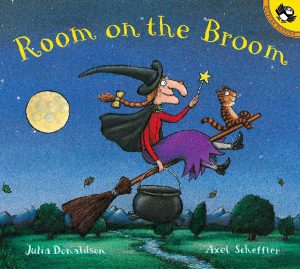 Moral of the Story:
Being a good friend and help each other.
Key Vocabulary:
ginger, plait, moor, ditch, caldron
Recommendations:
There are lots of things to explore on http://roomonthebroom.com/
November – Pancakes, Pancakes
Written by: Eric Carle
Pancakes, Pancakes! Lesson Plan
The barnyard rooster crows and Jack wakes up — hungry, of course! What does he want for breakfast? A big pancake! But first, Jack's mother needs flour from the mill, an egg from the black hen, milk from the spotted cow, butter churned from fresh cream, and firewood for the stove. Will Jack ever get his pancake?
Key Vocabulary:
mill, churn, batter
Recommendations:
Talk to your school librarian for more suggestions!
We are updating these sections.
February –
Just Going to the Dentist
Written by: Mercer Mayer
Just Going to the Dentist Lesson Plan
The Critter Tales series continues with this enlightening story about going to the dentist. Although he was scared at first, Little Critter soon learns that going to the dentist isn't all that bad!
Morals of the Story:
Be willing to try new things.
Try to be brave.
It's okay to be scared.
Key Vocabulary:
Checkup, Drills, X-rays, and Numb
Recommendations:
Children's Series:
Little Critter series by Mercer Mayer
The Berenstain Bears series by Stan & Jan Berenstain
Curious George series by H.A. Rey
Books About Trying New Things:
Everyone Can Learn to Ride a Bicycle by Chris Raschka
The Dot by Peter H. Reynolds
Sergio Makes a Splash by Edel Rodriguez
Talk to your school librarian for more suggestions!
March-
A Pet For Pete
Written by: James Dean
Pete the Cat Lesson Plan
Pete's first pet doesn't seem too exciting at first. With a little creativity, though, Pete realizes he loves painting his new friend. When his new hobby starts taking too much time, he has to find an easier way to paint Goldie for everyone to enjoy.
Morals of the Story:
Be creative.
Be responsible.
Share your talents with others.
Key Vocabulary:
Fins, List, Responsibility, and Billboard
Recommendations:
Modern Children's Books:
Pete the Cat series by Eric Litwin & James Dean
The Kissing Hand by Ruth E. Harper
Dragons Love Tacos by Adam Rubin
Pet Stories:
If You Give a Mouse a Cookie by Laura Numeroff
The Pigeon Wants a Puppy! by Mo Willems
Biscuit series by Alyssa satin Capucilli
Talk to your school librarian for more suggestions!
April –
Farm Animals
Written by: Wade Cooper
Farm Animals Lesson Plan
Children learn about horses, pigs, cows, geese, sheep, and more. The text is written in easy-to-read rhymes and is illustrated with irresistible photographs. Three pages of fun learning activities are designed to both challenge and entertain new readers.
Recommendations:
Farm Books:
Big Egg by Molly Coxe
Mrs. Wishy-Washy's Farm by Joy Cowley
On the Farm by David Elliott
Talk to your school librarian for more suggestions!