Real Men Read Parent/Mentor Portal
Each year, FMCCS places men from our community in Kindergarten classrooms throughout the district. Five times a year, the MENtor reads aloud from a book that each child receives a copy of. Through fun activities and exciting stories, students are encouraged to love reading and take lessons from the books.
Research shows that reading with a child at home is one of the best ways to increase reading skills. You will find lesson plans for each of these books to inspire your fun family reading time.
We also encourage you to support this program for next year!
$20 will fund the program for one student.
$60 will fund the one classroom for one month of the program.
$300 will fund a classroom for all five months of the program.
If you would like to make a donation towards Real Men Read, please click the Donate button on the sidebar. Under "Related Gift Information," make a note that your donation is "For Real Men Read." Thank you for fostering a love for reading in our students.
Thank you to our program sponsors for the 2017-2018 program:
The Wahl Family Charitable Trust, German American, and our MENtors
October –
Room on the Broom
Written by: Julia Donaldson
Room on the Broom Lesson Plan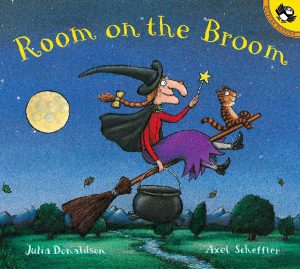 This is a rhyming book about animals that go for a ride with a witch on her broom. When she encounters trouble, the animals work together to help the witch.
Moral of the Story:
Being a good friend and help each other.
Key Vocabulary:
ginger, plait, moor, ditch, caldron
Recommendations:
There are lots of things to explore on http://roomonthebroom.com/
November – Pancakes, Pancakes
Written by: Eric Carle
Pancakes, Pancakes! Lesson Plan
The barnyard rooster crows and Jack wakes up — hungry, of course! What does he want for breakfast? A big pancake! But first, Jack's mother needs flour from the mill, an egg from the black hen, milk from the spotted cow, butter churned from fresh cream, and firewood for the stove. Will Jack ever get his pancake?
Key Vocabulary:
mill, churn, batter
Recommendations:
Talk to your school librarian for more suggestions!
February – Snowman Magic
Written by: Katherine Tegen

When George stays home from school for a snow day, he finds himself staring out the window, bored. But when he sees the beautiful white slopes in his yard, he gets himself dressed to face the cold weather. George starts rolling the snow into balls and assembling them into a snowman. After his snowman is made, something unexpected happens! How long will George's enchanted fun with his new friend last?
Key Vocabulary:
Brilliant—very bright
Drifted—snow piled high
Plunged—dove or jumped in
Shrinking—getting smaller
Recommendations:
Talk to your school librarian for more suggestions!
March- Biscuit and the Lost Teddy Bear
Written by: Alyssa Satin Capucilli

Biscuit and the Lost Teddy Bear Lesson Plan
Biscuit has found a lost teddy bear. But who does it belong to? None of his friends is missing a bear. Can Biscuit find the teddy bear's owner? The youngest of readers will enjoy following Biscuit's search to return the bear to its rightful home in this charming, easy-to-read adventure.
Recommendations:
Talk to your school librarian for more suggestions!
April – Sea Turtles
Written by: Laura Marsh
Sea Turtles Lesson Plan
Who could resist celebrating sea turtles? They may seem like lazy ocean reptiles drifting with the oceans' currents, but they are actually long-distance swimmers that spend their entire lives searching for food and a mate. What's more, they come with their own built-in GPS, returning to the exact beach where they were born to lay their own eggs. Kids will learn all about these tranquil and mysterious animals through brilliant photography and illustrations, plus the trusted and distinctive content you love from NG Kids!
Recommendations:
Talk to your school librarian for more suggestions!